Renovating your property is a great way to not only make it feel more like home, but also add value.
Of course, large-scale renovations can be challenging and cause major disruption to your day-to-day life.
But with good planning and preparation, you can really put a fresh stamp on your home as well as making it more appealing to buyers should you decide to sell in the future.
Home renovations: Where to start
It can be difficult to know where to start when deciding to take on a renovation project.
The first thing to do, though, is take on inspiration from elsewhere – which is why we've dug deep into Pinterest's best boards to find 10 of the most inspirational renovation before and after pictures to get your creative juices flowing…
Living room home renovation ideas
The living room is usually is one of the most used spaces in any house, so making it feel homely and loved can be a great way to give your property a lift.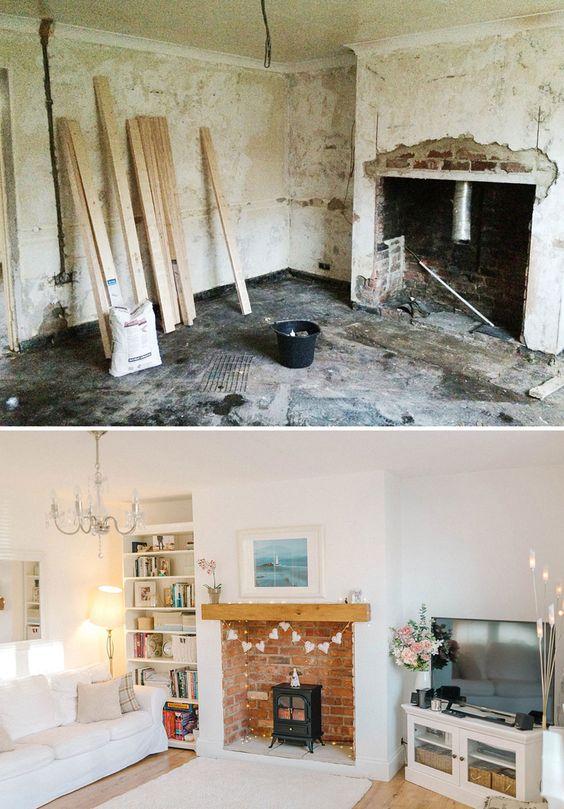 While older properties are often in need of renovation work, once completed they really do come back to life.
In the above before and after pictures, the owners of this 1940s property stripped back their home to its bare bones before creating a light, airy and stylish living room.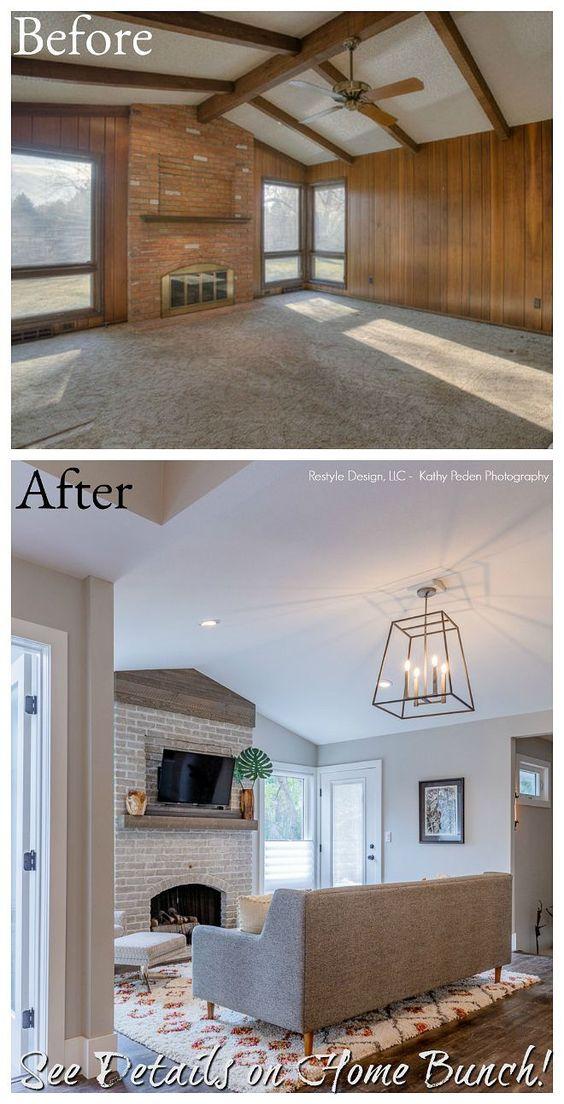 This large living room, meanwhile, was already a great space but the wood cladding and beams made it feel enclosed and dark.
The owners made use the of the original fireplace, but added in additional doors, new flooring and windows, as well as decorating to bring more natural light into the room.
Home renovation ideas for your kitchen and dining room
Kitchens really have become the heart of most people's homes and the more open plan they are for most, the better.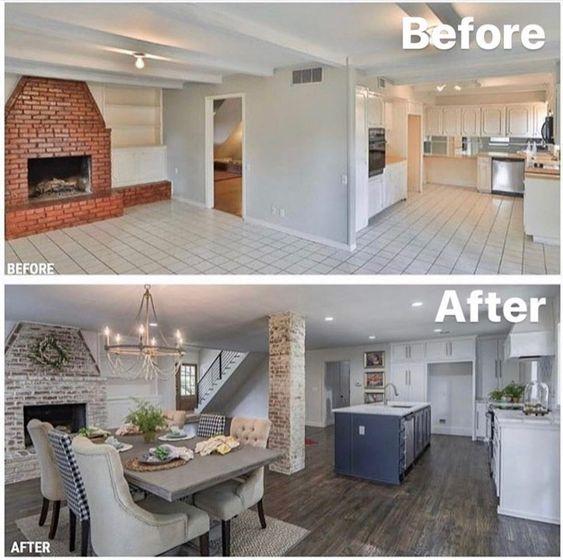 The owners of this property were already blessed with a substantial space, but their renovation project opened everything up further and added an island as a striking focal point of their new kitchen.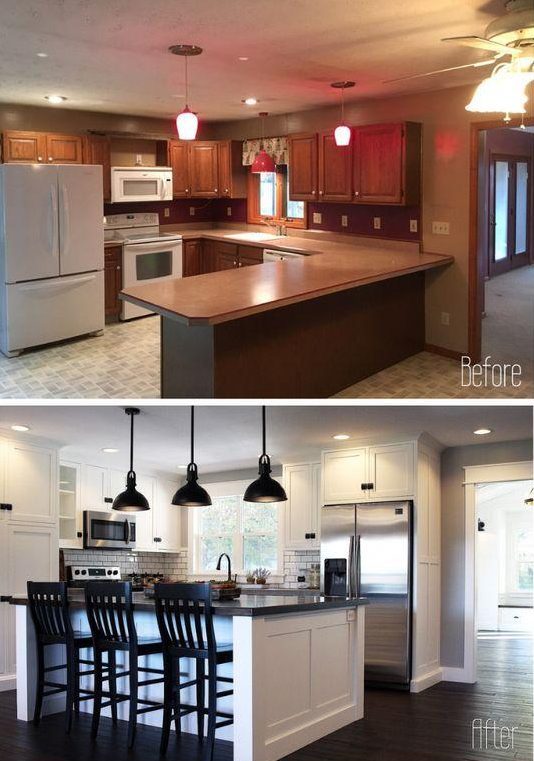 Again, the owners of this home had a great space to work with but were struggling with a lack of natural light compounded by dark kitchen units.
By making more of their smaller window and adding white units, but also keeping some dramatic contrast with dark worktops and an island, the kitchen has become a great family space.
Exterior renovation ideas
Outdoor space has become one of the most important 'must-haves' for homeowners and buyers since the coronavirus lockdown.
Making your property's garden or exterior stand out can provide a great space for you to enjoy but will also be hugely appealing to buyers should you decide to sell.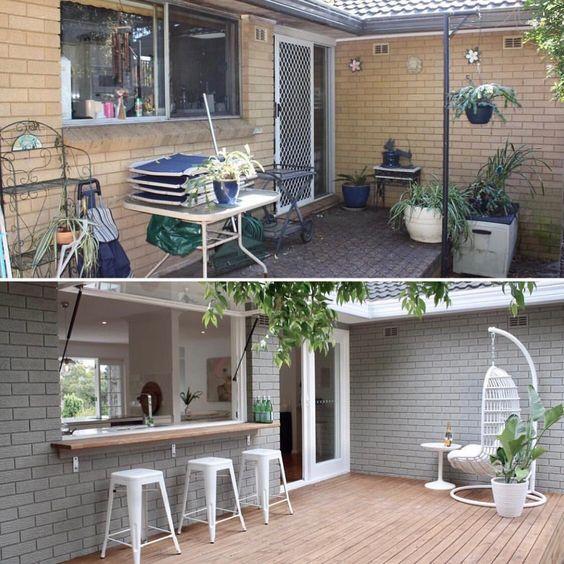 This outdoor space was definitely in need of a spruce-up and the owners have done a fantastic job by adding a decking area as well as turning a large window into a kitchen serving hatch for outdoor dining.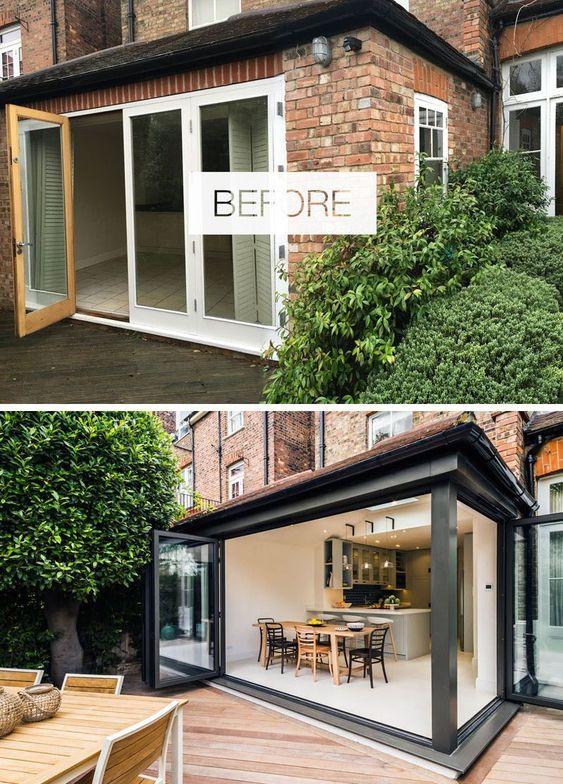 Bringing the outdoors in is often a key desire for home renovations and adding an extension can be a great way of achieving this.
This property already had a brick-built extension, but by updating this, the owners were able to add more windows and increase the amount of light flooding into their kitchen.
A deck area and bi-fold doors complete the flow between indoors and out.
Bedroom renovation ideas
Bedrooms are often the cheapest renovation projects to carry out – but that doesn't make them any less impressive when done well.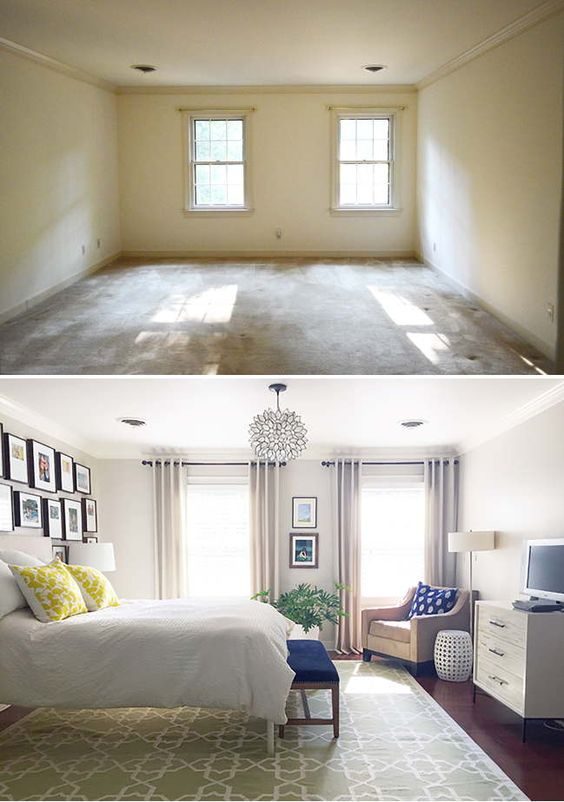 This good-sized double bedroom already had two large windows allowing light into the space, so the owners focused their efforts on the décor.
Contrasting flooring and a light paint scheme really help to make this space feel warming and cosy.
Renovation ideas for your bathroom
Bathrooms aren't always the largest spaces to work with on a renovation project, so utilising every inch of room is vital.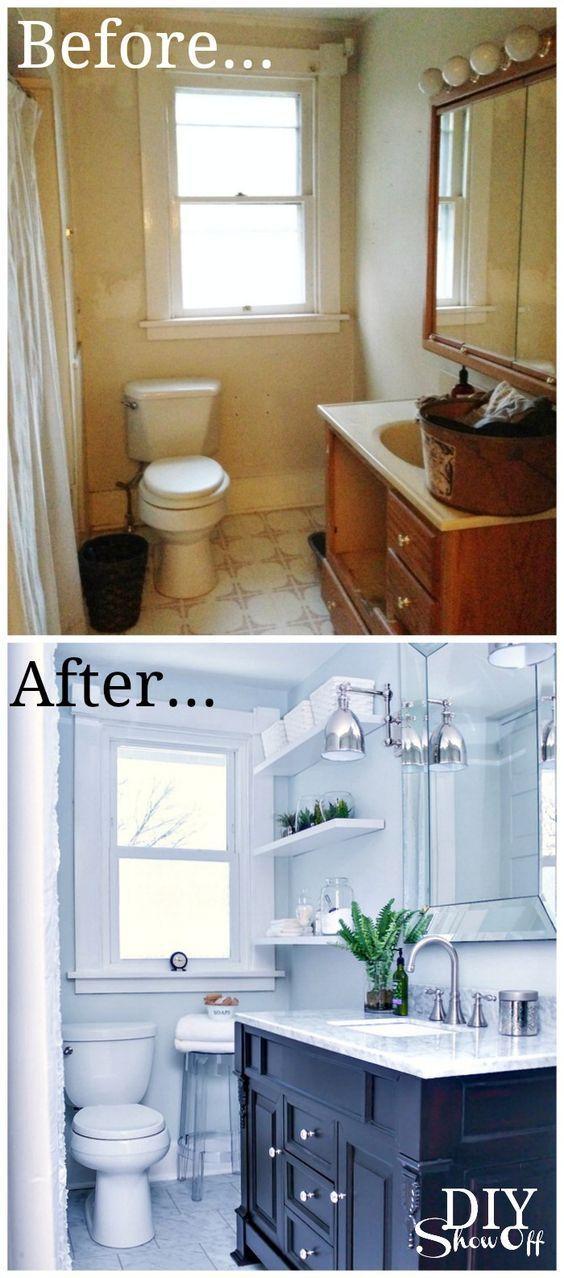 This bathroom is one of those small spaces, with a shower above the bath and little space to reconfigure.
So, the owner concentrated their efforts on a light colour scheme, quality fittings and plenty of storage, doing a fantastic job with a difficult space.
Renovation ideas for your utility room
Utility and laundry rooms are often neglected spaces, hidden away and used as dumping grounds.
But if you're lucky enough to have a utility, you should make use of it – which means storage and convenience.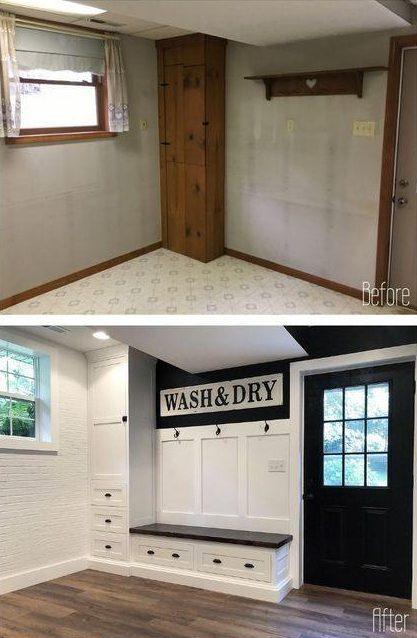 This utility room had bags of potential and the owners have created a superb space with plenty of storage but have also made it a room to be shown off rather than hidden away.
Renovating your hallway
Like bedrooms, hallways can be inexpensive to renovate.
But as they are often the first space guests will walk into, they're well worth putting the effort into when it comes to your own renovation.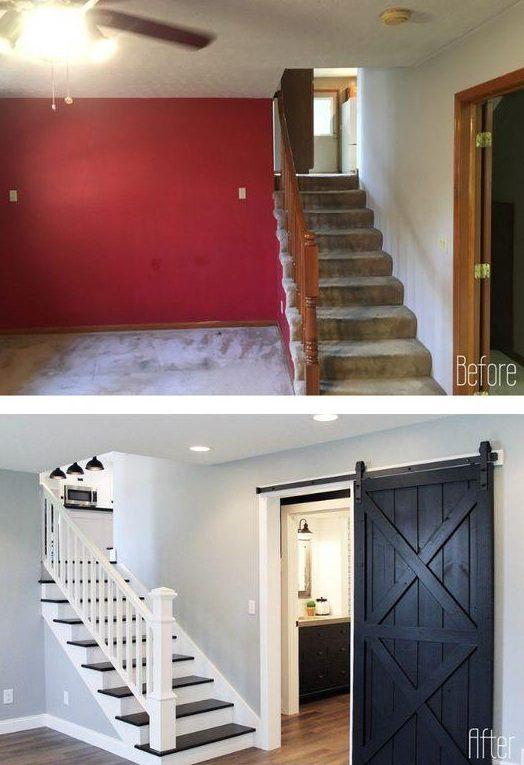 By stripping everything back and adding a focal-point dark barn door alongside contrasting paintwork, the owners have created a space with a real wow factor without breaking the bank.
Home renovation ideas on a budget
If your budget doesn't stretch to a full-on renovation like an extension or a new kitchen, don't worry – there are plenty of inexpensive tasks you can complete to breathe new life into your home.
Install a stair runner
Remove your carpet, sand back your bare stairs and paint before adding a traditional stair runner. Stair runners come in all kinds of bold, statement designs, meaning you can make a real impression.
Revitalise period features
If you're lucky enough to have a striking period fireplace that's seen better days, don't rip it out.
Spend some time, and a little money, replenishing it back to its glory days.
Statement front doors
The first thing people see when they arrive at your home is the front door. So, if it's looking a little worse for wear, give it a bold lick of paint, or even consider replacing it.
The current Green Homes Grant scheme includes energy efficient doors, so you could replace yours with something more modern and save some money at the same time.
Best time of year to do a home renovation
Home renovations can, of course, be done at any time of year (perhaps aside from Christmas!).
But if you're planning major work at your home, you should consider how you'll deal with the disruption.
Most homeowners have larger work done during the summer months, so they can escape to the outside while work is done during the day, but spring, too, is a popular time for renovations.
External projects that require any ground work are often best done in the winter when soils are softer and vegetation has died off.
Further reading…
If you're looking to sell your home and add some value before you do, it's worth knowing the work that usually does boost your property's price and work that doesn't.
However, there are a host of easy DIY projects that can help make your home more appealing to buyers.
And if you are looking to sell your property, this guide contains lots of great tips to help you secure a quick sale.