Whether you're focusing your property search on lifestyle, transport links, schools or simply on the hunt for a great property, Bristol ticks all the boxes.
But it's a big city with lots of different areas to focus your search.
Here, we'll look at some of the best areas to live, run through some of the houses for sale in Bristol and take a look at the current property market in the city.


Where to live in Bristol
Bristol is divided up into a host of areas and suburbs, each with similar and, in some cases, differing personalities and lifestyle offerings.
Properties and prices also differ from area to area.

Bradley Stoke

Close to the M4, M5 and M32 motorways,
Bradley Stoke
is popular with commuters and lovers of green space thanks to its proximity to the Three Brooks Local Nature Reserve.


Houses for sale in Bradley Stoke
Bradley Stoke is one of the newest areas of Bristol so is largely made up of 1980s and 1990s houses.
Popular with families seeking modern space in their homes,
this four-bedroom property
is typical of the kind of homes available in the area.


Bishopston

North of Bristol city centre,
Bishopston
and nearby
Henleaze
are popular with families thanks to its great schools.
And if you're looking for a period family home, you're in luck - some of Bristol's best Victorian terraces and semis are in Bishopston.


Houses for sale in Bishopston
Among the large numbers of Victorian properties with stunning period features, the western side of Bishopston also boasts a number of large 1930s family homes alongside more modern flats and apartments.
This
three-bedroom
terraced property
is a typical example of the superb period homes available in the Bishopston area.


Downend
Popular for its parks and open space,
Downend
is close to the M32 and M4 in the north east of Bristol.
Like many parts of Bristol, the area enjoys a host of independent shops and cafes along the popular Badminton Road.


Property in Downend
Well-presented Victorian terraces and larger 1930s and 1950s family homes are the order of the day in Downend, alongside more modern homes further out from the centre of the area.
A fine example of the kind of large period properties available in Downend is
this substantial five-bedroom property
.


Southville

One of Bristol's most popular areas,
Southville
is a mere 15-minute walk into Bristol city centre and close to Temple Meads station for rail services to London.
With the River Avon running north of the area and the open space of Victoria Park to the east, it's no surprise that Southville is quickly becoming a place where buyers lay down roots.


Property for sale in Southville
If you're keen on a quaint Victorian terrace then Southville is the place to look.
Some more modern properties are also available, mainly in nearby Bedminster, while some period properties have been converted into flats.

Kingswood

On the eastern tip of Bristol and close to the Cotswolds,
Kingswood
is another Bristol hotspot favoured by families for its parks and period properties.
Close to major roads for access to the city centre, Kingswood also has a leisure centre, with swimming pool and a gym.


Houses for sale in Kingswood, Bristol
Quaint Bristol period terraces dominate in Kingswood, although there are also more modern properties available and flats.
Although detached,
this three-bedroom period home
is on the market for £318,500 proving there is value to be found in this area of Bristol.


Redfield

East of Bristol city centre,
Redfield's
parks are almost unrivalled in Bristol.
St George's Park to the north east and Netham Park to the south are glorious open spaces to explore and enjoy.
The area is also only a stone's throw from Lawrence Hill train station for access to Bristol city centre and Bristol Parkway.


Property for sale in Redfield



Clifton

Bristol life is probably most perfectly encompassed in
Clifton
, where streets filled with chic boutiques and cute cafes attract homebuyers and renters in equal measure.
Bristol Zoo and the Clifton Suspension Bridge are iconic landmarks nearby.


Clifton property for sale
As well as the traditional Victorian and Edwardian properties Bristol is known for, lovers of Georgian architecture should start their search in Clifton.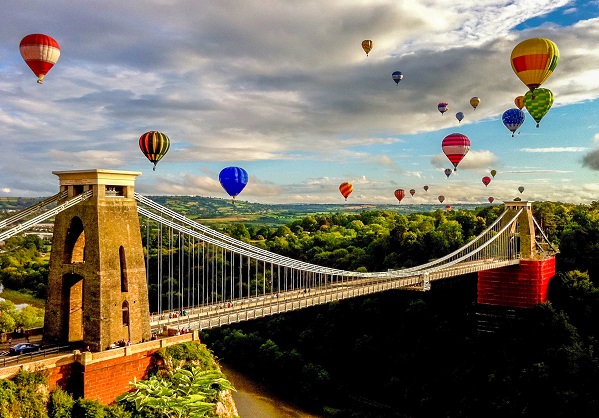 Westbury-on-Trym

Around four miles north of the city centre,
Westbury-on-Trym
has more of a village feel than its Bristol neighbours.
Close to The Downs, Westbury-on-Trym is perfect if you like getting out and about - but boasts some stunning properties, too.


Houses for sale in Westbury-on-Trym
The area is superb for 1930s family homes, but also has a lot of smaller period properties in the main conservation area in the centre of the village as well as larger villas.
This extended four-bedroom 1930s house
in the area shows what you can get for the right side of £700,000.


Bristol property market
While much of London and the south east of the UK has seen a price correction over of the past two years, the market in Bristol remains buoyant.
CJ Hole Southville
's Paul Goverd says: "Buyers coming into the South Bristol area in particular are confident that it's a good area to settle.
"It's a wide demographic, too - families, singles and older people.
"Prices haven't dropped since the EU referendum and we saw the same in 2008 with the last slowdown - South Bristol didn't really take a hit like the rest of the country.
"We're quite well insulated here and with house prices being lower than many other areas of Bristol but the desirability factor high thanks to lots of Victorian and 1930s properties, there is potential for superb long-term growth.
"I would say to people, if you've got the deposit and can get a mortgage then you should buy now, because with interest rates remaining low, you'll probably be paying less on your mortgage than you would in rent.
"I can't see there being a huge correction in prices in Bristol and I think once we're out of the EU, things will start to pick up again nationally as we move through 2020."
Bristol's 'protected' property market is supported by high employment and a growing tech start-up sector, meaning younger professionals flock to the area as much as families for good schools and great properties.
"South Bristol is also a lifestyle choice for many," adds Paul, "with North Street and its cafes, delis and lots of local independent shops."